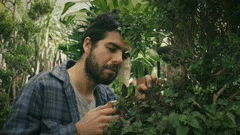 3 PHASE LEVER-ASSISTED CUTTING POWER:
Simply cut into a tree limb, press once, release, press twice for 2X the power, release, press down a third time for 5X the power. The ratcheting mechanism latches onto the limb, increasing the power with each step and slicing through a branch with ease.

PREMIUM QUALITY BLADES:
Forged with SK5 Japanese cutlery high carbon steel blade for heavy-duty durability. The ground on both sides to maintain symmetry and to keep the cut straight. Coated with non-stick Teflon to resist sap and gumming up of the blade. Manufactured with the highest quality techniques for a sharp, clean, and precise edge. Manually tested and oiled.

LIGHTWEIGHT ERGONOMIC HANDLES:
Quality sculpted aluminum frame with comfortable anti-slip thermoplastic padded shock absorber on the top handle for comfort over long use. Finger guide and protective loop on the bottom handle.

SPECIAL FEATURES:
7/8 inch cutting capacity anvil-type ratchet secateurs for all-purpose garden and tree pruning. Bottom serrated edge to better grip branches while cutting. High-quality spring-back action. Easy to operate thumb lock. Built-in oil well for blade maintenance.

100% SATISFACTION GUARANTEE:
If you are not completely satisfied with your new garden pruners, simply send them back, no questions asked. We guarantee you will love them!